Maximum Acoustics`s presentation at the exhibition CEE2019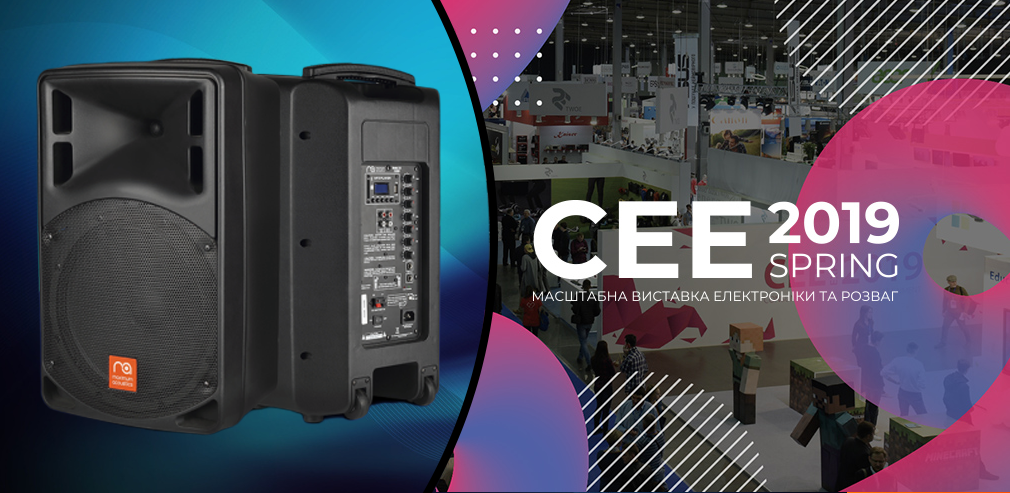 Brand`s presentation to a wide audience at the annual exhibition of electronics and electrical engineering CEE2019.

CEE2019 is the largest annual exhibition of electronics, electrical engineering, toys, electric vehicles, etc. in Ukraine since 2006. In 2019, the exhibition took place in Kiev in two phases and gathered more than 200 leaders of the world market from different branches and business directions on its site.

Impressions are the most positive, liked the fact that all three days was a large stream of visitors. There are so many young people, and it is not surprising, because the exhibition had a lot of gaming zones where you could try yourself at the gaming table. The subject of the exhibition was different — from vacuum cleaners to cars. Everyone who came to the exhibition definitely found something for themselves.

Victoria, Sales Manager
One of exhibited brand was Maximum Acoustics, which present on exhibition its party sound, a new generation of stand-alone speaker systems for various events and BTL-promotions.
Maximum Acoustics speakers are created to allow you to instantly turn on music or radio, as they are designed based on the "Plug and Play" principle. This means that speakers already have on board everything you need: MP3 player, USB and SD card support, FM tuner, built-in mini-mixer for connecting additional microphones or other tools.
Many first discovered our brands, they really liked the fact that our speakers have a self-contained battery. The MP3 player and Bluetooth were also a good addition to the affordable price.

Andrew, manager for Maximum Acoustics
At the exhibition, everyone could appreciate the Mobi series from Maximum Acoustics — a universal solution under all conditions. Mobi speakers with built-in rechargeable batteries provide stand-alone sound, so you can hold your event almost anywhere! And for a bright holiday, manufacturers predicted function "party" with the effect of light-music. You do not need to buy a large amount of equipment or rent equipment - the speaker system is also equipped with radio microphones! When choosing Maximum Acoustics, you choose a powerful sound quality and reliable assembly. The power of RMS series models ranges from 80W to 120W.
Also on CEE 2019 novelty Maximum Acoustics was introduced. The Digital PRO series — it's a powerful sound with RMS from 250W to 400W for professional and portable use. The series presents two-way systems of active and passive type. The system has a very simple button control on the back, and an informative display. In addition, the remote control unit MP3 player comes complete! It allows you to control the playlist at a distance, and it also extends the ability to the speaker system installation. The body of the speaker system is made of reliable, durable high-quality ABS-plastic. The system is distinguished by its durability and versatility — it has a high quality sound and will be a great choice for your rehearsal base, cafe or summer terrace of the restaurant, will be useful during holidays and other events.
Our stand was very popular: firstly, our stand had a good location, no one passed by without seeing us; secondly, we really had something to show.

Maya, Sales Manager
A visit to CEE2019 is remembered exclusively in a positive way. Many factors contribute to this: good location and organization, colorful stands with interesting novelties, a variety of topics. The team adequately coped with the task of familiarizing guests with the products of Maximum Acoustics: many gladly took the opportunity not only to look at the latest gaming technology and consumer electronics, but also enjoy the music with powerful dynamics.