Acoustic system Maximum Acoustics MobiCUBE.60
Maximum Acoustics MobiCUBE.60
MobiCUBE.60 is a portable two-channel speaker system with powerful multimedia functionality from Maximum Acoustics. The 30W rated power is more than enough to power any party, and the built-in LED lighting creates an incredible club atmosphere. The super-compact body made of lightweight ABS plastic in combination with a built-in 4.5 Amp / h battery allows you to take the MobiCUBE.60 with you on a trip or a picnic.
The built-in multifunctional MP3-player and FM-receiver are responsible for multimedia capabilities. Besides traditional music playback from memory card and flash drive, it also supports wireless audio streaming via Bluetooth. You can also easily connect a microphone and a guitar or synthesizer using the dedicated connectors, and the built-in recorder will save your performance to a flash drive or memory card.
TWS (True Wireless Stereo) mode. For 2 speakers simultaneous connection
Turn both speakers into Bluetooth mode. You will see Blue blinking on the screen
At one of the speakers, press and hold the MODE button. You will hear a beep and see TWS blinking
Turn on the Bluetooth devices search on the phone. You will see 2 identical devices with the name Bluetooth in the device list
Connect to any of them. You will hear a connection sound and a female voice denoting the right and left channels
Enjoy listening to music
All functions of the multimedia player can be controlled either directly from the device or using the supplied remote control.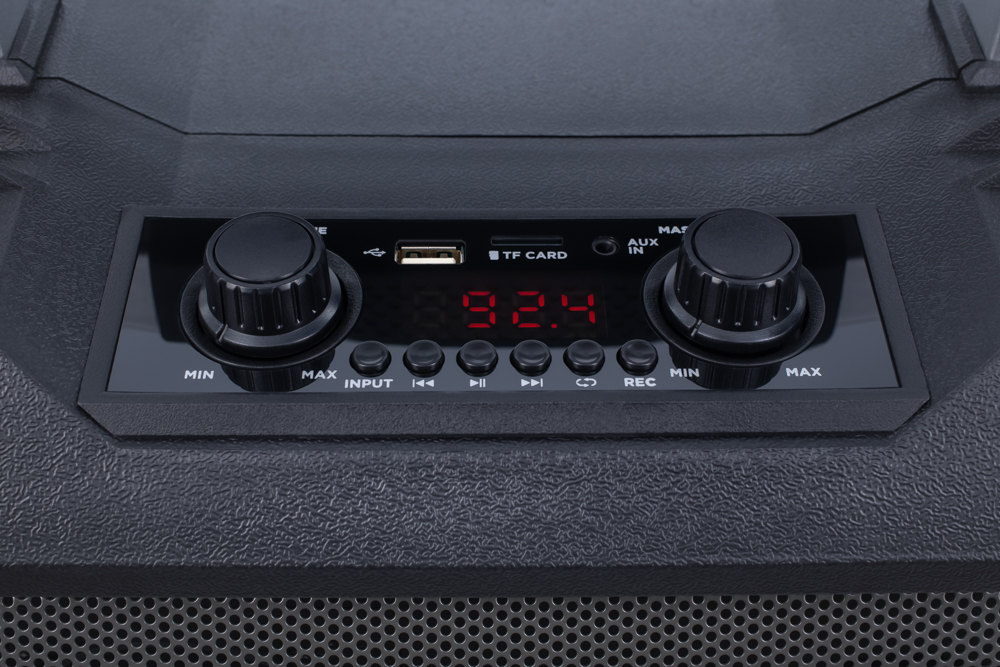 We trust the quality and reliability of our products so much that we are ready to bear responsibility for warranty obligations on the best terms. This and other products of our brand are guaranteed for 36 months!
Specs
Speaker: 8"
Main Channel Output Power (4 ohms, 1 kHz, 1% THD): 30 W
Peak system power: 60W
Main channel frequency response: 20 Hz - 20 kHz ± 1.5 dB
Total Harmonic Distortion: <0.2%
S/N (main channel): >40 dB
Features: Bluetooth, TWS Mode, MP3 Player, FM Receiver
Regulators

Front panel: Mic Volume, Master Volume, MP3 player and FM receiver control keys
Rear Panel: Bass, Treble, Mic Echo, Guitar Volume, Lights: On / Off (backlight control mode), Power: Battery / DC 15V (battery or power supply mode)

Inputs

Front panel: Aux jack 1/8", USB, TF card slot
Rear Panel: Jack 1/4" (for microphone), Jack 1/4" (for guitar)

Dimensions: 305x260x362 mm
Battery: 4.5 Amp / h 12V
Time to full charge: 3-6 hours
Battery life: 4 h
Warranty: 36 month
Equipment
Acoustic system Maximum Acoustics MobiCUBE.60
Radio Microphone
1/8" jack - 1/8" jack cable
Power adapter
User's Manual
Presentation Maximum Acoustics MobiCUBE.60
Warranty, month:
36
LF Speaker :
8"
Peak Power, W:
60
Nominal Power, W:
30
Frequency Response:
20 Hz - 20 kHz
MP3-player:
Yes
Knobs:
Bass, Treble, Volume
Inputs:
Jack 1/4", Aux 1/8", USB
Color:
Black
Body Material :
Plastic
Mount:
Handheld
Battery:
Yes